A place of worship open people of every religion in the beautiful islands of Samoa.
The Baha'i House of Worship Samoa
Designated as a "place of spiritual gathering and of the manifestation of divine mysteries", the Baha''i' House of Worship and prayer gardens are open daily for prayer, meditation, and personal reflection to peoples all religions, races and nationalities. Its majestic architecture and tranquil atmosphere, set within fifteen acres of stunning gardens, offer an experience like none other. Visitors are warmly welcomed.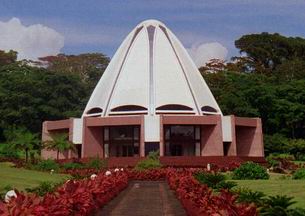 Navigation
Samoa Sites